Responding to Allegations
The Catholic Church in Scotland takes Safeguarding concerns and allegations most seriously and we wish always to respond to any disclosures appropriately, according to the demands of justice. We are committed to co-operating with the statutory authorities and the requirements of criminal law. This includes the mandatory reporting of all allegations to the statutory authorities.
The Bishop's Conference of Scotland has a mandatory Reporting Policy where all allegations of a criminal nature are reported to Police Scotland. This applies whether the accused is alive or deceased. Allegations must in the first instance be reported to the Diocesan Safeguarding Adviser. If the Adviser is not available, please ask to speak to a member of Safeguarding Team. If anyone discloses an allegation to you always remember to follow the nationally agree process: Listen – Respond – Record – Refer.
What can you do to help if you are worried about a child, young person or adult at risk?
If you see behaviour that is of concern, or if an individual tells you something, you need to take them seriously, and speak to someone (the person to whom you are responsible or the Diocesan Safeguarding Adviser).
In an emergency situation, where you have immediate concerns for the safety of an individual you must contact the Police/Social Work Services/Medical Services direct.
To discuss in confidence how we may be able to help, contact:
Diocesan Safeguarding Advisor
Caterina O'Connor
Tel: 0141 226 5898
Email: This email address is being protected from spambots. You need JavaScript enabled to view it.
or write to:
The Safeguarding Advisor
Archdiocese of Glasgow
Safeguarding Office
196 Clyde St
Glasgow
G1 4JY
Responding to Concerns/Allegations of Abuse in Emergency Situations
When a child, young person or adult at risk is at risk of immediate harm, contact the Police and/or Social Work Services giving full information and follow advice given.
Statutory Agencies are staffed 24 hours a day every day of the year.
Seek medical help where necessary, giving medical staff relevant information about the allegation/concern.
Following these steps ensures immediate avoidance of further abuse, immediate pursuit of an alleged abuser, avoidance or destruction of evidence: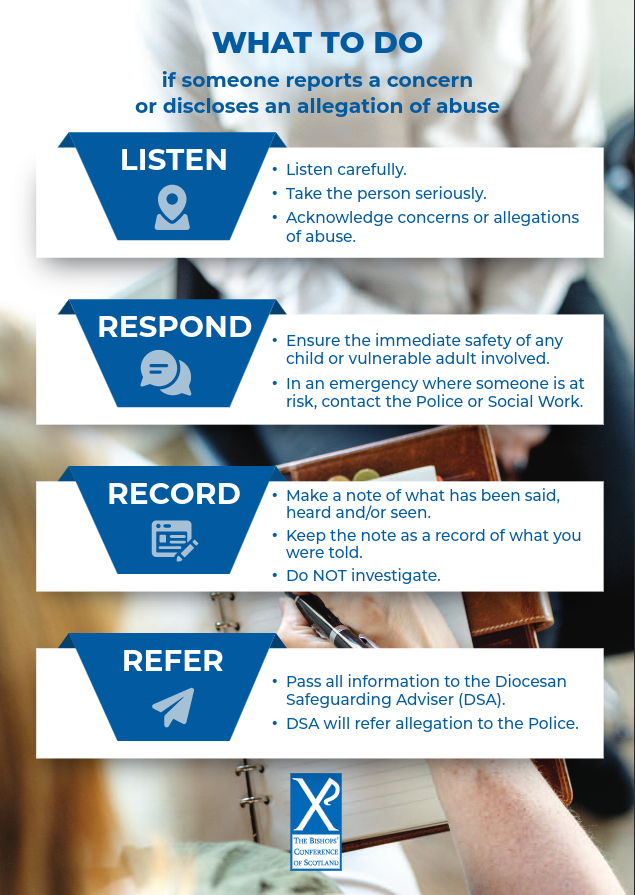 Resources to Download